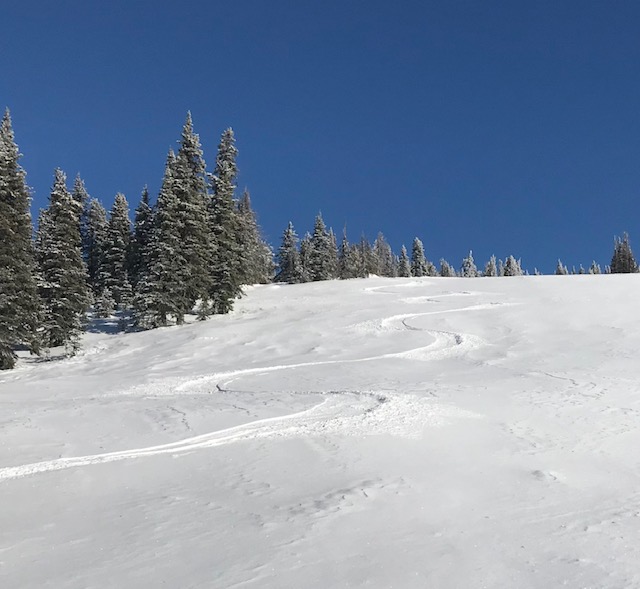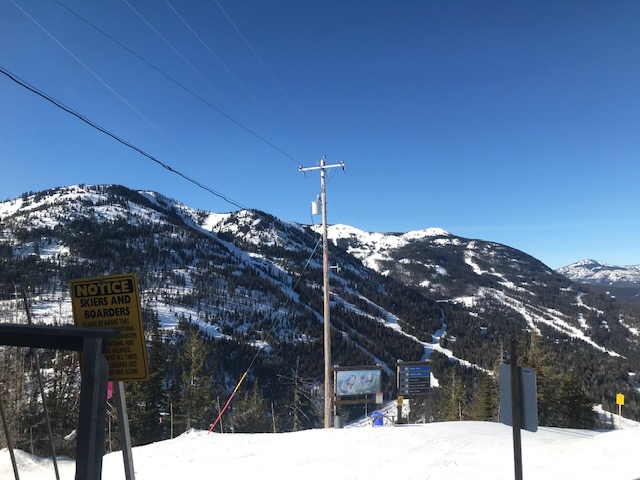 That 9cm in 24 hours was on the 15th and we haven't had any new snow till last night its now the 20th. We got 2cm, which we believe is not worth reporting on the snow report but because its the worst winter I have experienced we're happy to take anything :), it was a bit of fun on the sides of the groomers but not good enough in the tree's.
Above is a photo of the Granite mountain, to the left of the power pole showing the east aspects of the Powder fields and slides. The mountain to the right of the power pole is Grey mountain which we used to ski tour on till they put a lift to the top about 6 years ago.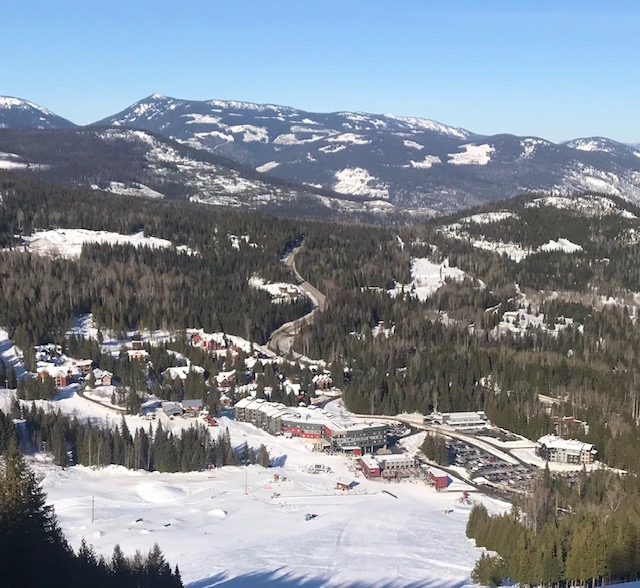 Above is a photo of the base area from halfway up Red mountain most of the buildings have been built since I first came here in 1999. There are two small red Cladded buildings at the bottom of the slope they were built about 4 years ago and the Greyish building in between with a lot of windows is the original Red mountain base building which was built in the 1940's when it was a club field and still has the famous Rafter's Bar.
The building on the other side which is Red and Grey is the new hotel which was finished 3 years ago and the Condo's on the end of it were built 10 and 12 years ago. The buildings beyond them in the wooded area are lovely big timber mountain style condo's which suit the area, Locals call it the Red mountain village and I guess in 20 years time those timber mountain style house's will stretch further up the highway which you can see running through the area, it will probably be named the Red mountain village
As for the covid restrictions in British Columbia as of midnight last Thursday we don't have to wear mask's outside and in the lift lines, we still have to wear mask's and have a vaccine pass to enter the cafe's and Bar's but the restrictions have been lifted for amounts of people allowed in, the pubs can now have bands with dancing but when dancing we have to wear mask's, the only time we don't wear mask's is if were at the table drinking and eating, the dancing with masks is a bit weird so not sure how that will be obeyed.
Anyway that's it for now just under 4 weeks to go now till I fly to England so hopefully we'll get a few storm's before I go, but next week doesn't look promising maybe a little during tonight, fingers crossed.
I have skied most days numbering 47 so far so its always good being here and playing between a 1000 and 2000 meters 🙂