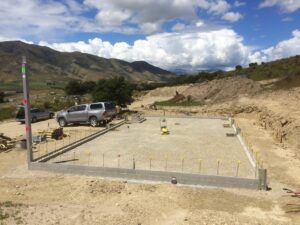 Just over a month since I last wrote, as far as work is concerned the photo left is as far as we have got with Craigs house before we stopped for the Xmas break last Saturday.
He has to work most days now till March patrolling the activities on Lake Wanaka and Hawea keeping people safe on the lake's and rivers.
Since the 3rd December I have been spending time with Family, Gary in Amberley and now here at Bills in Lake Rotoma.
Left Craigs house has got to the Blocks being laid and filled with concrete and now the hard fill inside the block area compacted ready to carry on getting ready for the floor slab in early January.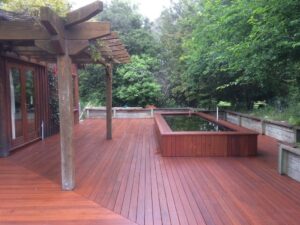 The other job I have been working on, Calum and Andrea's I finished last Saturday.
During the last week I finished off the Kwila boards around the Pond and the capping and finished off sealing it with 3 coats (overall) of Aqua deck Kwila sealer.
Calum and family have been in Hawaii for 2 weeks now and put the fish in the pond before they left, there is 26 goldfish of different size and colours.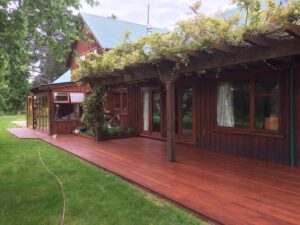 It was a big job which we started way back on 4th July and working on it 2/3 days a week up until early December.
Its totally transformed their area around the house and their choice of the pond and its style a nice one.
When they come back in a week they will focus on installing the pump with a waterfall.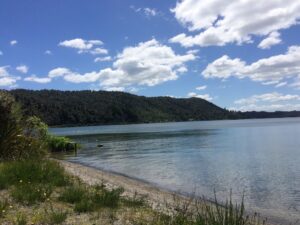 I'm now at Bill's by Lake Rotoma and have been here a week now.
Bills been busy at work the whole time so I haven't been fishing, even though I'm right by the lake in the bush, Bill lives right of center in the photo left.
I walk every day along the lake before and after lunch and I've only seen one fish.
I walk up to the cafe for a morning mocha and Bacon toastie. In the afternoon I do others walks.
Michelle, Liam and Alice arrive tomorrow from Hahei where they have been for the last 2 days, I jump on board the 6 birth camper van and Thursday we head off for the Wellington ferry to the south Island Friday morning.
I will probably do a few more posts the over the next few weeks while we go into the festive season as we adventure into and through the South Island with family till the end of the year. 🙂