I've lost my editing page for my blogg but I do have another blogg which came about by accident some years ago so I'll try and get this out to some of those I know look at my blogg.
Last week Danimal and I went for a hike up Roberts and skied the Dog leg (third photo down the long left chute) its the first time I've skied it this winter because every where else being good.
Above I'm at the top standing to the left of the pole in photo below.
Behind me is Red to the left and Rossland where we live to the right of Red.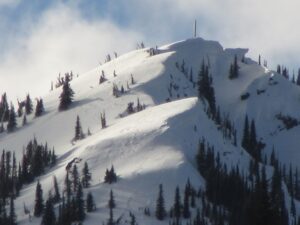 The photo right I took from a street near where I'm living later that day as the late afternoon sun was hitting the slope, we skied down to the tree's at the bottom of the photo where you can see the figure of 8 then dropped into the dog leg third of the way down the ridge from the top in the photo below.
Some of the cornice's are sticking out a bit as you can see (above) we keep well back from the edges as they can break especially with the warmer weather we have been getting.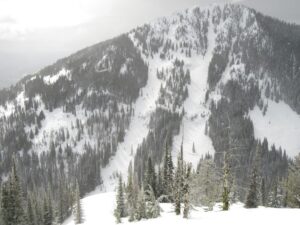 We've only had three powder days in the last two weeks.
Its been mostly sunny and we've had some nice spring ski-in.
The last 3 days the freezing level has been above the mountain at mid day, making afternoon ski-in low down very sticky.
Roberts (above) has been a GR8 mountain to hike up this winter and I have hiked up there 73 times during the winter and had awesome runs down the North face mostly in the thick tree's to the right of the picture.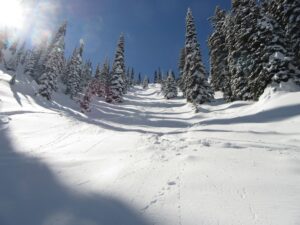 Some of the runs have been down the Gun Barrel where I went 4 days after we skied the Dog Leg.
This is my favorite run on the mountain.
Photo above is the top section of the Gun Barrel which is to the left of the thick tree's on the right of the photo above, it comes down into the center chute at the bottom where the photo below was taken before the short hike back up to the lift.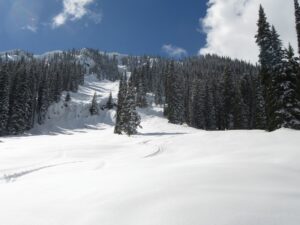 Tomorrow is closing day, its come round so quick the last few weeks and after a lot of good days ski-in its hard to believe there's only one day left.
Because of the warmer weather the back country hasn't been on the last 4 days and still won't be until they get the Freeze and warm weather to harden up the slopes and create some good corn ski-in.
I'm off to Downtown Vancouver on Tuesday for a few days it is one of my favorite cities and then onto Vancouver Island on Thursday for 10 days before I fly out back to NZ.