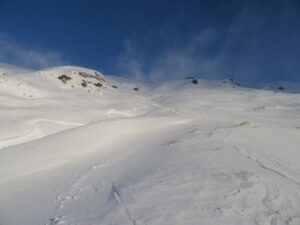 Our ski season finally got under way on the 23rd June and after the first day where Derek and I went for a hike which I posted last, the following Monday was our first powder day and there was hardly anyone on the hill which is unusual for a Bluebird powder day.
There is now a free bus service from town and it also stops in the valley at the bottom of Treble cone.
So I parked up and got the bus at 8-30 and was at the base lodge at 8-45 and I was on the first chair with no line up, which never happens.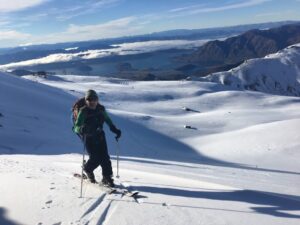 My first run was in the Powder bowl (above) and I was ski-in fresh line all day long which again is very rare for Treble Cone.
The next day Derek and I decided to go for another ski tour and we headed to the same area , right is me walking with the beautiful view of Lake Wanaka in the back ground with the town under the white cloud inversion layer on the other side of the lake.
Just realised I put this photo in the last post, oops.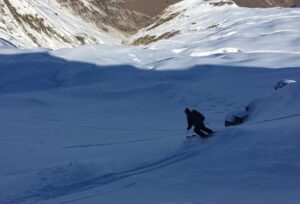 This time we skied the south face of the Wedding cake which we can't see from the ski area.
Left Derek took the photo of me just heading down on our second run with the first run to the right of me going down onto the sunny ledge before it drops away into the valley below and then we hiked back up onto the ridge where Derek is taking the photo left.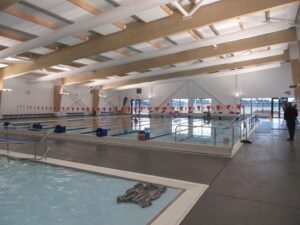 Since I arrived back from my 6 month trip away they opened the new swimming pool ( right)which we've been waiting for for many years and I brought a 10 day swim pass and have been 5 times now since it opened, its a GR8 exercise for suppleness and breathing strength and I swim 40 lengths (25 meter lengths) now compared to 30 in the past.
I also went for a bike ride today the first since the first of July.
Talking of pool's in my next post I will show some photo's of the Pond we are building here at Calum's house which will be surrounded by a deck.